Day 3 - Sunday, March 4, 2007
Well be did make it to Tampa OK yesterday evening.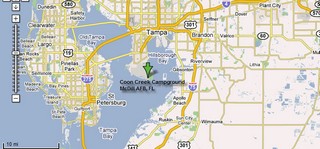 Last night we were going to spend our first night at a Walmart, however, we were not very close to one so we decided to spend the night at Truck Stop. We were so tired we just fell asleep. Sylvia was a little apprehensive but we were so tired we just went to sleep. Next morning we were off before 6am amid running Diesel. So much for our first adventure in roughing it.
We had hoped to arrive before 3pm; however, we ran into a lot of rain and a whole lot more traffic and accidents in the Orlando area. We got here some time after 7pm. The campground office was closed but they left directions to contact the night campground host for signing in. We did and were given our site assignment. Got set up, freshened up and drove over to Palm Harbor to have dinner at Crabby Bills with our daughter we have not seen for a while. It was great to see her and we did a quick catch up but said our goodbyes early as all were tired, Alexia from working and us from driving.
Got up this morning early and took a nice walk on the beach with our dog Lucy. Found out later that was a no no. No dogs on the beach! Spent most of the day getting better organized with all the things we brought in the RV. It's amazing all the things you bring that you think you just have to have and then all the things that you forgot to bring that you really need. We all know the know that feeling you forgot something, but you just don't know what it is… Took us driving trough five states to figure out we forgot to bring our Turbo Tax…must of been on purpose as a quick calculation previously determined we owed the tax man…Oh well…
Here's a picture of our Bounder at the campsite in McDill . FL.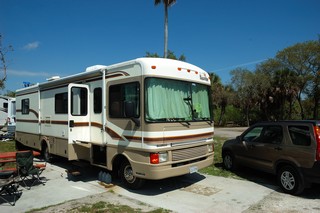 Brought Alexia on the base so she could see our "Camper". She thought the RV was really nice; it had all the essentials and she could see us roughing it. We had a simple pasta dish that our friends Linda and Romano shared with us. We all laughed at the challenge of fixing a meal in a small space, but we managed. We had a nice dinner, visit and walk around the camp ground. Now, we're gearing down for the night and I'm taking a little to time for this post. My plan is to try to post a little something each day so you all can see what we are up to each day..
Take care friends….